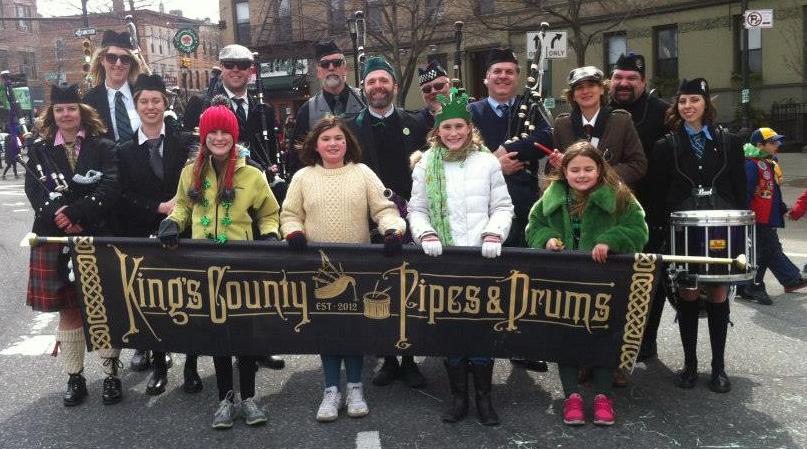 The best way to keep the most up to date with us, view us in action, and peruse stuff we find interesting is to visit us at facebook.com/COKPAD.
Who We Are
Formed as a lark to march the Brooklyn St. Patrick's Day Parade in 2012, Kings County Pipes & Drums has grown to be a band for pipers and drummers in the Brooklyn area to play in some of New York City's most entertaining events. Since its founding, the band has played at the world famous Coney Island Mermaid Parade, the Brooklyn Pride Parade, the Park Slope Halloween Parade, and appeared on Fox 5's Good Day New York. The band draws its membership from New York University Pipes and Drums, Saffron United Pipe Band, Monaghan Pipe Band, and other unaffiliated metro-area pipers and drummers.
Hire Us
The band's goals are to play good music, with good people, sound good, and have fun doing it.  We aim to play events where one doesn't normally get to see pipes and drums.  But we love the traditional stuff too!  So whether we're marching down the Coney Island boardwalk, across the stage at a corporate event, or up the aisle at a wedding, Kings County can provide you with the solo piper, mini band, or the full band for your special event. What ever they are, we can accommodate your needs.
TO HIRE US, us the contact information provided below.
Join Us
Kings County Pipes & Drums is always welcoming new members…and so can you!  Keep in mind, we're not your everyday pipe band!  We generally operate as a supplemental band to pipers and drummers who have their own instruments and uniforms from playing in other bands or who play as soloists.  Therefore, we cannot provide drums or uniforms like many other bands - you have to have access to your own.  However, we also don't charge dues and we play where no other pipe bands play!
For example, Kings County plays many non-traditional events such as the Brooklyn Gay Pride Parade and The Mermaid Parade.  If you are intolerant of mermaids, this is not the band for you.  If you're looking for the Catholic League, you won't find it here.  What you will find is a group of diverse friendly people who love to make music.  If this sounds like you, JOIN US!  Contact us using the information below to find out how!
Learn From Us
Want in on all the hot action, but don't know how to play?  Many of our members give lessons in piping and drumming.  Contact us using the information below to get hooked up with instruction!
Contact Us
Want to join us or hire us or just shoot the breeze?  Email tealef@gmail.com.  Be sure to put Kings County Pipes & Drums in the subject line.